Exhibition Information
Location: Artspace Gallery on the CSN North Las Vegas Campus
Dates: Friday, February 8, 2019 – Saturday, March 23, 2019
Hours: 8am-10:30pm M-F, 8am-5pm Sat, Closed Sunday and All National Holidays
Artist Talk & Reception: Monday, February 11, 6pm
Artist Statement
I am the worst sort of detective. I just like to pile up clues and rearrange them into melancholic jokes, farcical calamities and occasional moments of grace.
When I am drawing, I am teasing out a knot or banging on a drum. My drawings have paint, of course, but they are not really paintings—the drawn line is what tells the tale. The pops and veils of color and the stained surfaces just hang around it like groupies. They provide a ragged sort of embellishment. The line is what makes the edges and directs the characters and each marks provides a kind of unstable punctuation.
My drawings have a cast of characters, images and elements, which live in flattened landscapes or ambiguous spaces that are flooded with intimations.
I think about thrownness, the ridiculous set of circumstances that make each person's own horizon line. In these drawings, horizons are not there to separate earth and sky. They are a thing for standing on, ducking under or tripping over. They provide for points of appearance rather than vanishing.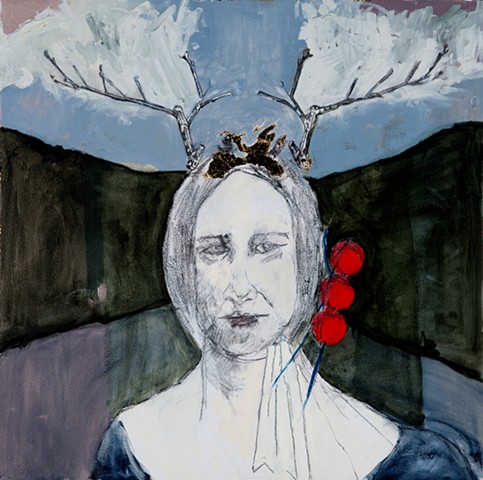 We are perpetually in a state of medias res, the middle of the action. It feels like our lives are a story, but the past is soft and indistinct, the climax can't be recognized and the denouement is necessarily unknowable. So the little world of my drawings is peculiar. The figures, the marks, even the little shiny spots are talking to themselves and each other. The viewer gets to listen in, and take a peek—even put in their two cents.
The way we travel, who shows up, the near misses and the head on collisions, are what make and unmake us. These little stories are the moment before a divination— the tea leaves have settled, the alomancer has flung the salt; the bones have clattered to the ground. But the signs don't point to the future, they are this moment right here: a sort of prophecy of the present.
Biography
Kathryn Jill Johnson received her MFA from the University of Georgia and Her BA from the University of South Florida.  She is Currently a Professor of Painting and Drawing at the University of Alabama in Huntsville.
Jill has exhibited nationally and throughout the southeast, including group exhibitions at the Tennessee Valley Museum of Art, University of Montevallo the, the Huntsville Museum of Art, the Alabama State Council on the Arts' Georgine Clarke Gallery and most recently, the Wiregrass Museum of Art. She has mounted a number of solo exhibitions, among them shows at Lowe Mill Arts Center, the University of Wisconsin-Madison, Berea Collage, and Rogue Community College.
Jill's mixed media drawings are influenced by psychoanalytical theory, symbolist poetry, and absurdist humor.
Links
Kathryn Jill Johnson Website
CSN Art Galleries Instagram
Exhibition Information
Location: Fine Arts & Artspace Galleries on the CSN North Las Vegas Campus
Dates: Friday, November 30, 2018 – Saturday,January 26, 2019
Hours: 9am-6pm M-F, 10am-4pm Sat, Closed Sunday and all National Holidays
Artist Reception: Friday, November 30, 6-8pm
Exhibition Statement
The College of Southern Nevada Department of Fine Arts will host an exhibition featuring work of 35 faculty/artists from its Art & Art History Program. Works featured in this exhibition will highlight the vast range of offerings within the CSN Art & Art History Program including: ceramics, digital media, drawing, metal work, mixed media, painting, photography, printmaking, and sculpture. The "2018-2019 CSN Art & Art History Faculty Exhibition" will begin Friday, November 30, 2018 and will run through Saturday, January 26, 2019. An Artist Reception with refreshments will take place at the gallery on Friday, November 30, 2018, from 6 – 8 p.m. and is open to the public.
"2018 – 2019 CSN Art & Art History Faculty Exhibition" features 35 full and part-time Art & Art History Program faculty/artists: Suzanne Acosta, Dennis Angel, Linda Angel, Myranda Bair, Christopher Bauder, Mark Brandvik, Keith Conley, Michael Crowe, Brian Daw, Nancy Deaner, Daryl Depry, Lolita Develay, Kathleen Dillion, Jeff Fulmer, Jack Hallberg, Anne Hoff, Ben Johnsen, Elizabeth Klimek, Alfonso Lirani, Wayne Littlejohn, Gary Marx, Orlando Montenegro, Robert Nicholson, Daniel Ogletree, Manfred O'Hare, Mary Lou Parker, Eric Pawloski, Miguel Rodriguez, Sean Russell, Floyd Shepherd, Fred Sigman, Robin Stark, Carol Treat, Christopher Tsouras, Anna Vishnevsky and Joanne Vuillemot.
The CSN Fine Arts & Artspace Galleries are free and open to the public. Gallery hours are from 9 a.m. to 6 p.m. Monday through Friday and 10 a.m. to 4 p.m. Saturday. The Fine Arts Gallery is located adjacent to the Nicholas J. Horn Theatre Lobby and the Artspace Gallery is located upstairs above the main entrance lobby, both on the North Las Vegas Campus of the College of Southern Nevada, one-mile East of I-15 North, 3200 E. Cheyenne Avenue, North Las Vegas, NV 89030.
Links
CSN Art Galleries: Link
Instagram: "2018-2019 CSN Art & Art History Faculty Exhibition" CSN Art Galleries
CSN Department of Fine Arts: Link
College of Southern Nevada Department of Fine Arts Facebook: Link